Description
7 Cylinder-bed, 1-needle, Unison-feed, Lockstitch Machine
Features:
Automatic Thread Trimmer
With its horizontal-cutting mechanism, the automatic thread trimmer cuts various kinds high-to low-count threads
Pneumatic auto-lifter (optional)
AC servomotor / controller SC-380
The SC-380 is provided with many different standard functions, including speed-control, soft-start, automatic reverse stitching with the specified number of stitches, constant-dimension stitching, and overlapped (multi-layered) stitching
These functions ensure sewing performance optimally suited to the material and process
With its higher torque under low-speed sewing, the SC-380 enables the sewing machine to smoothly start sewing operation
unit is also provided with additional capabilities which enhance the sewing of extra heavy materials by increasing the cloth-penetrating force of the needle for the first stitch of sewing, etc.
With these capabilities, the sewing machine is able to demonstrate optimal sewing performance both widely and smoothly when working with heavy materials
Control panel that improves functions of the sewing machine (optional)
Commplete with table stand and motor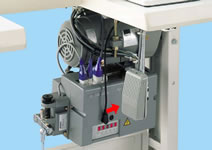 With its consistent seam quality and sharp-curve sewing function, the JUKI DSC Series of cylinder-bed, 1-needle, unison-feed, lockstitch machines has earned an outstanding reputation. A further-upgraded DSC Series is now launched. The machine is provided with an automatic thread trimmer and comes with thoroughly-redesigned electrical components, thereby ensuring higher power and improved reliability. JUKI is confident that its newly launched DSC Series is provided with all the essentials needed for the sewing of heavy materials.
Model name
DSC-244(V)-7, 244(V)
DSC-245(V)-7, 245(V)
DSC-246(V)-7, 246(V)
Application

V type: attaching of piping tape

Max. sewing speed

2,200sti/min

Max. stitch length

6mm

Presser foot

By knee: 13mm, 15mm (without trimmer)

By knee: 14mm
By knee: 15mm (without trimmer)
Alternating vertical
movement

3.0~4.8mm

Needle

DP×17(#18) #14~#21

DP×17 (#21) #14~#23
Thread

#50~#20, B33~B69, Nm=120/3~40/3

#50~#8, B33~B92,
Nm=120/3~30/3