Description
Forte 24 Handi Quilter Long Arm Quilting Machine With Gallery2 Frame
INCLUDED

 

HQ GALLERY2 FRAME WITH HQ PRECISION-GLIDE TRACK (8-WHEELS)

Introducing the new Handi Quilter Forte Longarm Quilting Machine. Made by quilters, for quilters. The HQ Forte 24 is jam packed with features and includes your choice of a 10" or 12" HQ Gallery2 Frame with HQ Precision-Glide Track (8-wheels) as an optional add-on.

Everything you need for free-motion quilting right out of the box, including a powerful stand-alone bobbin winder. Don't miss out on this amazing machine and start quilting better today!
Features
24" of brightly-lit throat space
Pinpoint Needle Laser
Easy-Set Tension
7-inch color touch screen (add the Pro-Stitcher and use that tablet for your machine display instead)
Menu-controlled QuiltMaster LED Lighting Package: throat, needlebar, and bobbin
QuiltMaster front handlebars: Independently adjustable, ergonomic with integrated micro handles
QuiltMaster servo-controlled stitch regulation (perfect stitches, every time)
Programmable handlebar buttons
Stitching speeds up to 2,500 stitches per minute
Consistent stitch quality from 4-24 stitches per inch
Two modes of stitch regulation: Precision or Cruise
Five convenient built-in tie-off stitches
High-speed rotary hook with large capacity M-class bobbin
Manual mode with three customizable preset speeds
Pro-Stitcher ready! All necessary cabling is pre-installed inside
Included 10-foot or 12-foot HQ Gallery2 Frame sizes
Handi Feet-compatible; includes ruler foot and open-toe foot
On-screen hand wheel
Magnetic Tool Minder Collar
Bobbin-use estimator
Front power switch
Thread-break sensor and alarm
Stitch counter
Easy needle change
Needle-stop up/down control
Five basting stitches
Optional HQ Forte Accessories:
Pro-Stitcher (computer-guided quilting)
Quilt from the Back Kit: rear handlebars, laser light, and pantograph
Groovy Board adapter/stylus
HQ Steady-Fit Ruler Base
HQ Electromagnetic Channel Locks
Horizontal Spool Pin
27-inch HQ Super Leader
HQ Couching Feet, HQ Echo Feet, HQ Glide Foot, and HQ Sure Foot
INCLUDED HQ GALLERY 2 FRAME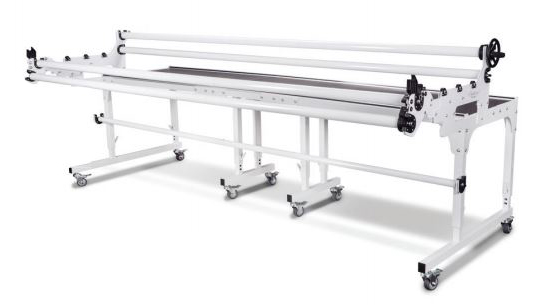 Features
Made of high-quality steel, the HQ Gallery2 Frame is a robust, professional grade combination table and frame system for the home or professional studio.
Choose the loading method you prefer with QuiltMaster DuoLoad system
High-quality steel provides a solid, free-standing foundation for your quilting
Zinc-plated hardware resists corrosion
Choose from 10-foot or 12-foot frame sizes. 14-foot expansion kit option 
Pole cradles provide accessibility for loading quilt batting
Height-adjustable legs with self-leveling feet accommodate a variety of floor surfaces
Set of three quality canvas leaders (with Velcro attachment)
Bungee-style elastic side tensioning system
Built-in hand wheel, snap-in poles, and smooth-rolling bearings make advancing the quilt a simple task
Batting storage pole keeps batting rolls off the floor
---
HQ Gallery2 Frame Loading Options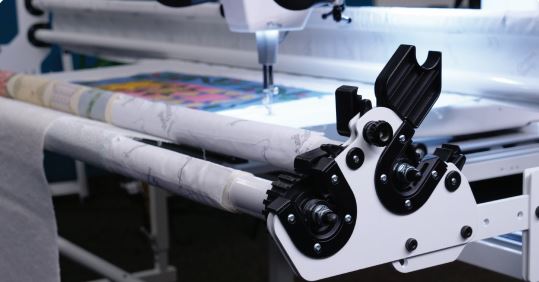 STANDARD LOADING
Provides a visual reminder of actual quilting space and easy access to the bobbin area for oiling and bobbin changing.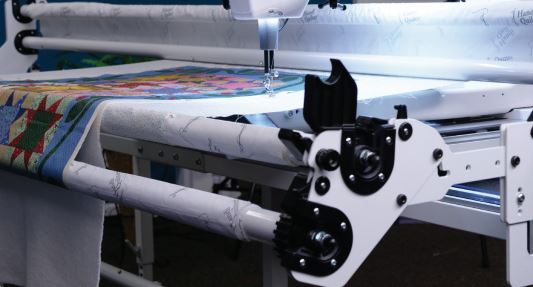 CLEARVIEW LOADING
Often chosen for ruler work, this option clears the way for the use of longer or larger rulers and templates.
---
OPTIONAL GALLERY2 FRAME ACCESSORIES:
Casters (pictured) for easy maneuverability
Hand Wheel (add to front pole for two-handed quilt advance)
HQ Super Leader
HQ HighRise2 Table Lift
HQ Super Quilt Clamp (Large)
Easy-Grasp Quilt Clamps (Large)
Handi Hammock
OPTIONAL HQ PRO-STITCHER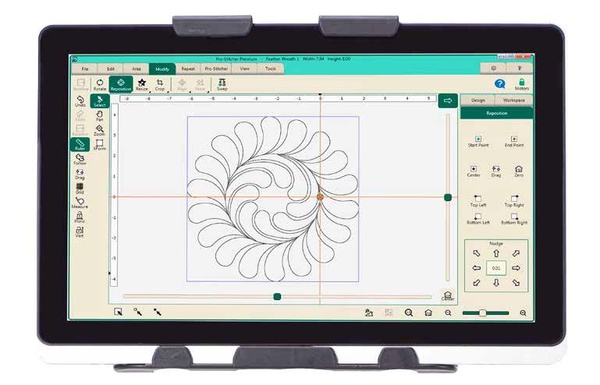 The HQ Pro-Stitcher quilting system integrates Handi Quilter's world-class quilting machines with the latest computer technology to help you finish more quilts. HQ Pro-Stitcher guides the machine to quilt any design you want to use, create, or customize. It works with all Handi Quilter stitch-regulated quilting machines: HQ Sixteen, HQ Simply Sixteen, HQ Avanté, HQ Fusion, and HQ Infinity. Expand your quilting possibilities with this easy-to-learn, easy-to-use, computerized system and have fun finishing more quilts! Using integrated HQ technology, the HQ Pro-Stitcher offers the best of both worlds: computerized quilting and free-motion quilting in the same package.
Key Features of the Pro-Stitcher Software
12-inch color touchscreen computer mounted on the HQ stitch-regulated quilting machine
Operate entire system from one screen
Includes more than 800 designs, including a designer showcase of motifs from your favorite designers
Switch between computer-guided and free-motion quilting at the touch of a button
Resize, Rotate and Repeat designs to fit specific areas
Skew or Align designs to fit any area with three or more points
Move designs into position by simply moving your finger across the screen
Stretch and resize a design using on-screen handles
Define and Fill an area with a design, using 2-corner (rectangles) or multi-point (any shape)
Save and move areas
Two-Point Rotation for border designs and fitting odd angles
Precisely reposition designs using the Center Point, Start Point, End Point, any corner of the design area, or any point within the design
Crop inside or outside of your design to fit your quilt, with the option to close the jumps or leave them open
Create new start/stop points
Place designs into borders and other odd-shaped spaces
Customizable speed and stitches-per-inch
Micro Tie-Off function
Ability to read most .hqf, .txt and .qli digital quilt patterns
Seamless integration with Pro Stitch Designer for designing and adjusting your own patterns at the machine (optional software)
Mark and record multiple points for accurate stitch-in-the-ditch quilting
On-screen Grid and Ruler to measure designs or area on quilt
Reorder designs for stitching
Horizontal and vertical channel lock
Help menus always accessible
Introducing the NEW Pro-Stitcher Designer Software - Included With Your Purchase!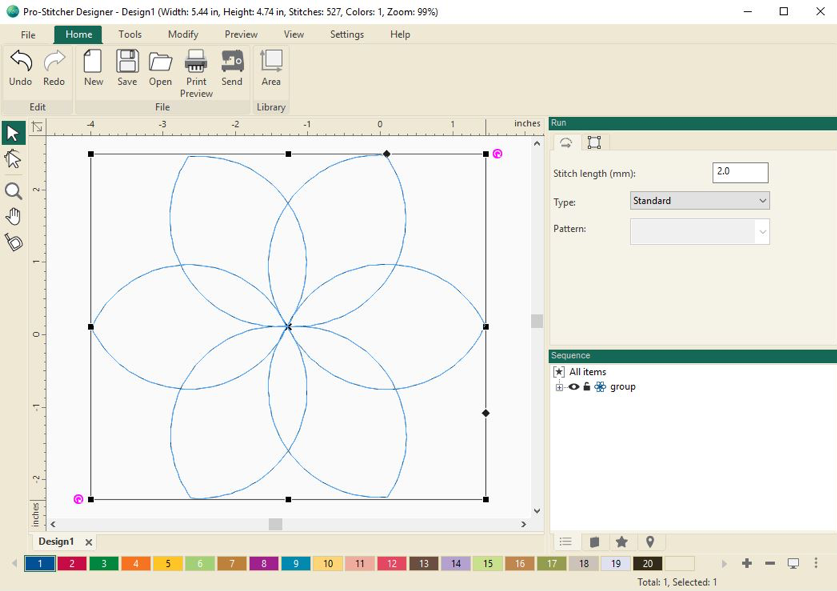 FULL-FEATURED DESIGN SOFTWARE FOR CREATING PAPER OR DIGITIZED QUILTING MOTIFS
Pro-Stitcher Designer™ gives you the ability to quickly design, edit, customize, export, and import any quilting motif you can imagine.
SPECIAL FEATURES:
Full-featured, vector-based drawing software to create your own digital quilting files
Easy-to-learn user interface and features
Free lifetime program updates
Full user support with manual, tutorials, and videos
Design and stitch motif library
Print design catalog
Compatible with all major longarm quilting file formats
Import and export vector formats
Batch save in all quilting formats
Draw original designs with Pencil, Line, Curve, 3-Point Arc, and Bezier tools
Customize, edit, and merge existing designs
Use design points and anchors for fine-tuned customization
Create quilt designs from artwork using Trace tools
Audition quilt patterns and preview with Slow Redraw
Use Auto-shapes to quickly draw original quilt patterns
Create repeated motifs with the Carousel and Reflect features
Convert True Type fonts to artwork
Add seam allowances to applique and EPP artwork
Customizable grids, including diagonal grid
Automatic fills including stipple and crosshatch
Print pantographs and tear-away stencils for use with home sewing machines and non-robotic longarm quilting machines
Quickly preview how designs repeat while drawing
Repeat designs to create edge-to-edge layouts
FILE FORMATS
Opens: HQF, HQV, HQA, HQW, QLI, CQP, SSD, TXT, IQP, QCC, PAT, BQM, ANS, common embroidery files
Imports: SVG, AI, EPS, EMF, WMF, DXF, PLT, FCM, TT (true type fonts), BMP, JPG, PNG, TIF, GIF • SAVE AS AND EXPORTS: SVG, PNG, JPG, HQF, HQV, HQA, HQW, QLI, CQP, SSP, TXT, IQP, PAT, BQM
Exports: SVG, AI, PLT, DXF, FCM
MINIMUM SYSTEM REQUIREMENTS
Windows: Windows 8 – 8.1; 1 gigahertz (GHz) or faster processor with support for PAE, NX, and SSE2; 1 gigabyte (GB) (32-bit) or 2 GB (64-bit) RAM; 16 GB (32-bit) or 20 GB (64-bit) hard disk space; Microsoft DirectX 9 graphics device with WDDM drive; USB Port; 800 x 600 Display; Mouse; Internet Access.
10 YEAR LIMITED WARRANTY ON HANDI QUILTER MACHINES
Please contact us for additional information. 1-800-487-7397
*Special Financing Available 
*Free Shipping