Description

Handi Quilter Moxie 15 Inch Longarm Quilting Machine With 8 Foot Loft Frame - DEMO MODEL
Now every stitch can be yours—from pieced top to finished quilt. You'll find 15 inches of free-motion freedom in the new HQ Moxie longarm quilting machine. Forget basting with pins or cramming quilts through a domestic machine. Get to stitching quickly with straightforward features, easy-to-use controls, and the space to get creative. Quilt without qualms, adventure with attitude—that's Moxie.
 Equipped with longarm essentials, the HQ Moxie empowers quilters of every experience level to enjoy free-motion quilting at a fraction of the cost.
Combined with the height-adjustable 8-foot HQ Loft frame system, Moxie enables you to finish any size quilt, even in a limited space.
Handi Quilter Moxie Longarm Quilting Machine Features
Front handlebars and full-color display
User-friendly icon-based display
1,800 stitches per minute
LED light ring
Handi Feet mount with quarter-inch ruler foot installed; open-toe foot included
Two modes of HQ stitch regulation: Precision and Cruise
Manual thread tension control
Consistent stitch quality from 4 to 18 stitches per inch
Needle-stop positioning control
Easy software updates
High-speed rotary hook with large-capacity M-class bobbin
Easy needle change with ergonomic thumb screw
Integrated USB port
Five bobbins, 20 needles, thread samples
Built-in diagnostics
HQ nationwide retailer support
HQ Warranty: 10 years casting, 5 years electrical and mechanical
Designed, engineered, and assembled in the U.S.A.
Educational videos, tutorials and tips available at HandiQuilter.com
---
Accessories and What's Included
PACKAGE INCLUDES:
3-Piece Leader Set
How-To-Quilt Kit
Accessory Kit with 5 bobbins, 20 needles, Pin-Point Oiler, Needle Threader, and Side Clamps
Quarter-inch Ruler Foot and Open-toe Foot
Decorative Decals to Personalize Your Machine
Stand-alone Bobbin Winder
OPTIONAL ACCESSORIES:
Quilt from the Back Kit (Rear handlebars, laser light)
Table-top Kit
Groovy Board Adaptor and Stylus
HQ Easy-Fit Ruler Base
Interchangeable Handi Feet
Horizontal Spool Pin
HQ Handi Light


Every Moxie Comes with A Kit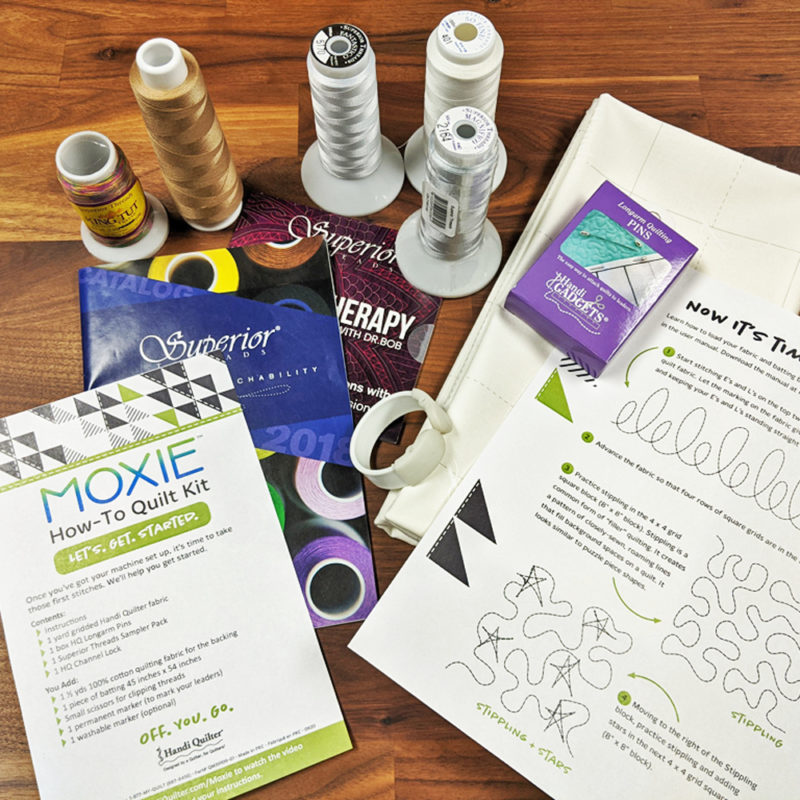 QUILTING KITS INCLUDED
Every HQ Moxie comes with a kit to help get you started! This is great for our beginner long arm quilters that need some guidance on what to make and how to make it on their new Handi Quilter long arm quilting machine.
8 Foot HQ Loft Frame Included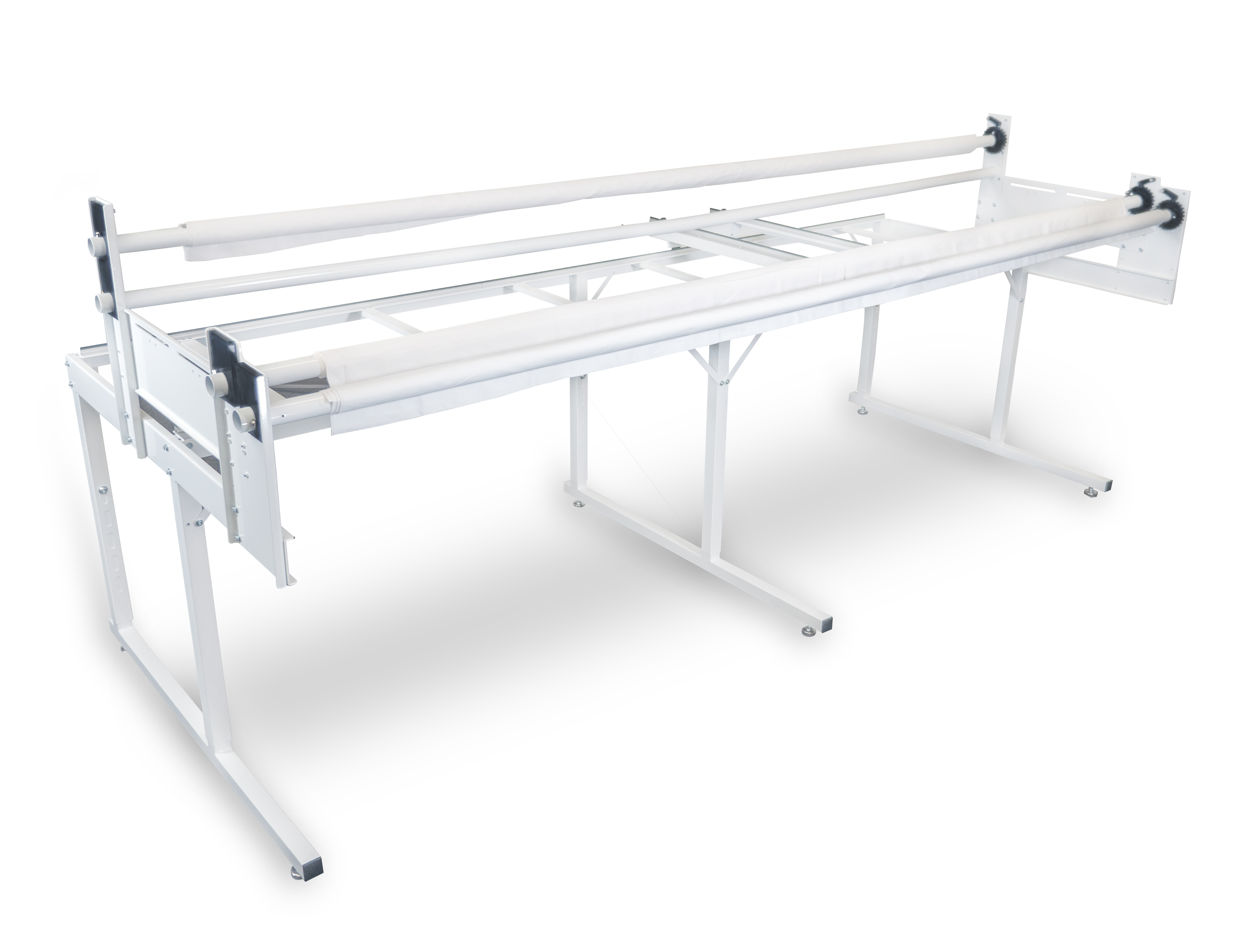 LOFT FRAME FEATURES
The versatile HQ Loft™ Frame features the essentials of a professional quilting frame system and optional accessories to create a personalized quilting experience. Also Compatible with the Sweet Sixteen Long arm Quilting machine.
8-foot frame extends easily to 10-foot with optional kit
Height-adjustable table can be customized for quilter
Choose from two different loading modes: High (for a standard "quilt in the trough" experience, useful for beginners) or Low (for better visibility when using rulers)
Made of high-quality, powder-coated steel for a firm base for longarm quilting
Ratcheted-pole ends hold quilt firmly for perfect stitching
Comes ready to quilt! Two side clamps and heavy-duty 3-piece leader set included
Little Foot Frame Optional
LITTLE FOOT FRAME FEATURES
The HQ Moxie comes with a Loft Frame Included, however if you would like to swap the loft frame for a little foot frame instead you can. The Moxie Long Arm Quilting machine is compatible with the HQ Little Foot Frame.
Innovative quilt clamp management system
Accommodates any size quilt
5-foot free-standing frame
Adjustable legs for easy customization from 33" to 44" height
Easy assembly
High quality steel construction
Leveling feet adjust to floor surfaces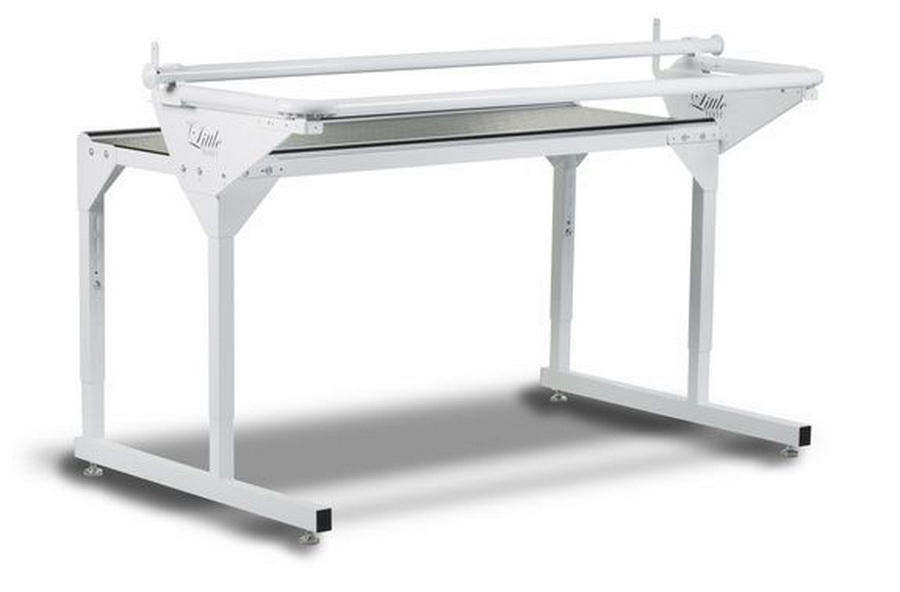 Quilt From the Back Kit Optional
ADD REAR HANDLEBARS TO YOUR MOXIE TO QUILT FROM THE BACK
The rear handlebars enable you to quilt from the back of the HQ Moxie. Includes Moxie Rear Handlebars, Laser Light and Adapter, and Sample Pantograph. Requires a Table Top Kit for use with Groovy Board Stylus on The Loft Frame.
Pair Your Moxie with The BILT App
GUIDING YOU EVERY STEP OF THE WAY
With the BILT app, you can receive 3D high quality interactive instructions on your Moxie machine. Within the BILT app, you can simplify the process with 3D frame assembly and set-up instructions on the free-to-use BILT app make these machines easy to set up in-home, without professional assistance. Available on Apple or Android, BILT users can tap the touchscreen for information on a part, pinch to zoom in and out, and manipulate the 3D images, so they can be viewed from any angle.
With the app, Handi Quilter will receive data analytics to improve the customer experience, see which steps are tricky or cause confusion, and instructions can be updated virtually, so they're never obsolete. Through BILT, Handi Quilter's mission is to perfect the set-up, right out of the box, and removing friction from complex processes.
10 YEAR LIMITED WARRANTY ON HANDI QUILTER MACHINES
Handi Quilter, Inc. warrants this Product for a period of 10 years against defective materials and/or workmanship, 5 years on electrical components and mechanical failure, and 90 days FREE parts and labor. Please contact us for additional information. 1-800-487-7397
*Special Financing Available 
*Free Shipping-